---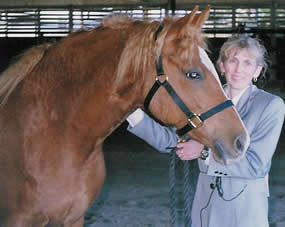 -What We Do-
We are a small farm located in Morriston Florida. In 2001 I purchased our 1st Curly because of my daughters allergies. Since then we have grown to love and cherish the wonderful unique charastics of this breed. Our primary goal is to increase the knowledge of the general public to the wonderful curly horse, and their many functions. We do a little showing in both English and Western, to show the diversity of the breed .We are currently involved with an organization called FOSH and are trying to get the Curly horse put into the FOSH rule books. If you want to know more about FOSH and what they are about check out our links page.
-The Curly Horse-
Native American legend has it that Curly Horses were the horses before horses - meaning they were around before the Spanish horses. How they came to the United States is a mystery. They have been documented among wild horse populations of the North American West since the 1700s, and Indian pictographs show that the Sioux and the Crow Indians had curly coated horses in the early 1800s.
There is evidence of Curly horses in many places around the world at different times. Charles Darwin wrote of curly haired horses in South America. Curly horses are depicted in Chinese artwork dating back to 161 A.D. Whether all of these Curlies are related is unknown.
It is a strong, tough and athletic breed. They usually are between 14.2 to 15.1 hh but come in all type, color and sizes. The most obvious difference is their curly coat in the winter, which becomes less apparent when short in the summer. They also have distinctly curly hair inside its ears, year around. Their coats are also hypoallergenic. People who are allergic to other horses are able to ride and own curly horses with much success.
They have a calm, quiet, peacful temperment. If frightened or confused, usually, they will watch & think before panicking. This wonderful temperment attributes to the ease in training.
Gaited Curly horses developed by crossbreeding Curly haired horses to gaited horses, most commonly Missouri Fox Trotters, Tennessee Walking Horses, Paso Finos, Peruvians, and other strongly naturally gaited breeds. Since the American Curly horse carries the blood of many types of horses, from mustangs to Morgans, it is no surprise that many have a "shuffle", running walk, or "amble" of some sort. About 10% of American Curlies will do a fox trot or running walk, making them ideal to crossbreed with gaited horses for increased gait.
Contact Information
352-486-8720 Farm
352-231-2372 Cell
Email Me